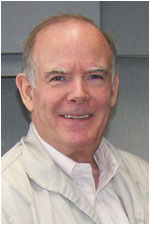 ---
Is a graduate of the University Of Michigan School Of Dentistry. He has had post graduate training in oral surgery and endodontics. He did research in prosthodontics at the University of Michigan and co-published an article in the Journal of Prosthetic Dentistry on balanced occlusion in removable dentures.
He has been active in organized dentistry, being a past president of the Kalamazoo Valley District Dental Society, the Russell Bunting Periodontal Society, and the West Michigan Steering Committee, (a part of the Michigan Dental Association). He is on the peer review committee of the Kalamazoo Valley District Dental Society and has received its "Distinguished Services" award.
He has a lovely wife (they've been married for more than 42 years). He has two great children (each married) and three wonderful grandchildren. He enjoys singing, fishing and (yes, he'll admit it) Pilates.
---